Covid-19
Video message concerning COVID-19, from our President & Owner, Jill Carlson. Learn how PARK CO., REALTORS® is being impacted, how we are operating safely for everyone's protection, and our thanks and gratitude to our community during these times.
---
Park Co. Topics on COVID-19
Please click on the following links below in regards to the topics on COVID-19 (coronavirus) to learn more from PARK CO., REALTORS®. Thank you!
Frequently Asked Questions (FAQ's) on COVID-19

PARK CO., REALTORS® Statement on COVID-19
The Power of Park…Here For You!
Like the rest of the world, the real estate industry is experiencing a period of uncertainty. While each day brings new challenges, the PARK CO., REALTORS team continues to vigorously do what we do best…serve our clients. During this critical time, we promise to keep you informed with up-to-date market knowledge and provide you with the guidance you need. PARK CO., REALTORS has been in business over 60 years, and we have weathered major floods, recessions, and everything in between. We have the proven experience to navigate difficult times, and we can assure you that our team is committed to providing top-notch service throughout the Fargo-Moorhead and Lakes region.
As always, our agents, staff, and clients' safety and well-being is our top priority, and we have the tools in place to function virtually as needed. Buyers are able to view listings via virtual tours, attend virtual showings, and view photos and information through our PARK app. For those critical in-person interactions, we have strictly enforced safety measures for both buyers and sellers. The bottom line is- we will meet our clients where they are comfortable.
Know that we are committed to doing our part to keep the economy going by supporting our buyers and sellers and ensuring that real estate transactions continue to move forward. We have actually worked through this world-wide pandemic to see our best JUNE in the history of PARK! Followed by very strong July, August, and September months. We know that tough times do not last but tough companies do. We've successfully faced challenging times before and we will do so again this time around.
From all of us at PARK CO., REALTORS, we thank you for your ongoing support and partnership. Stay safe and stay healthy!
Thank you!
---
PARK CO., REALTORS® FAQ's on COVID-19
We have been asked many questions on how PARK CO., REALTORS® is operating during COVID-19. Below we have provided our Frequently Asked Questions (FAQ's) in infographic (image) and PDF file format. If you have a question that you do not see on the FAQ, please contact us!
FAQ - Infographic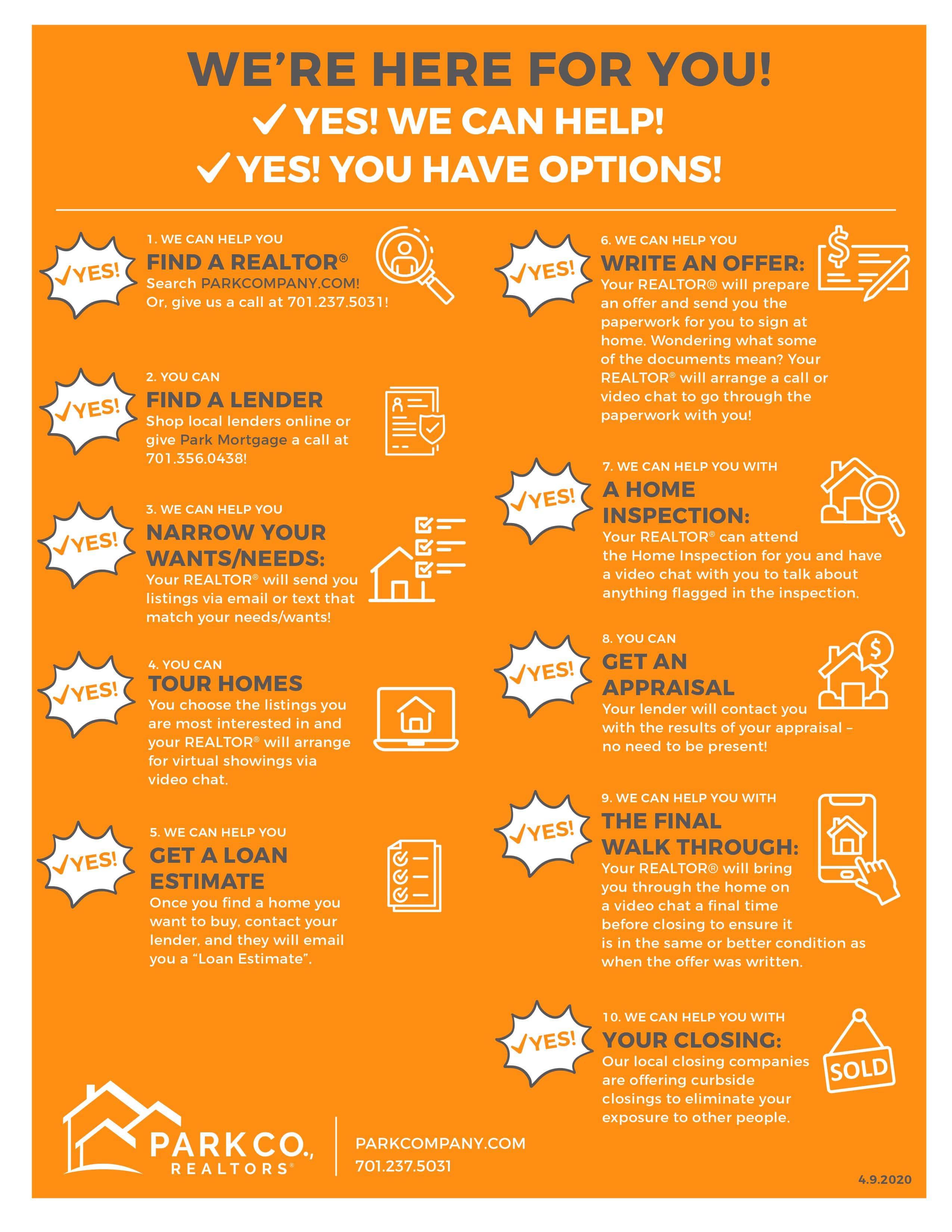 FAQ - PDF Format
You can view the FAQ's in our convenient PDF Format by clicking on the link below!
PARK CO., REALTORS®: COVID-19 FAQ's (PDF)
---
Other COVID-19 Resources
CONSIDERATIONS FOR EMPLOYERS, EMPLOYEES



UNDERSTANDING ECONOMIC IMPACTS



KEEPING WORKPLACES SAFE AND HEALTHY
Testimonials
" Michelle did a great job of keeping us posted throughout the entire buying process. She was available whenever we needed her. She handled the process of buying a new house during this new environment with COVID 19 well. We appreciated her very much. She always answered our questions and provided us with good information. "
- Beth Haseltine
" Park Company was a great company to work with, especially while buying and selling a home during these challenging times. Michelle is very personable and available when we needed her. "
- Beth Haseltine
" Michelle was extremly knowledable; we could not have done it without her. She did way above and beyond what was expected. "
- Mark Wurzer
" Michelle was fantastic to work with. She was able to provided above expected service, advice, and direction. Loved working with her. "
- Christine Graf
" There was not an expectation that was not provided by Michelle. "
-
" Very good, things went very fast "
- Robert Haseltine
" Michelle made what could have been a very stressful multi-state relocation stress free. Her experience made the search easy and helped me find the perfect house for me. I would recommend her to anyone looking to relocate. "
- Margaret Woods
" Michelle was a lot of fun, she is very personable we truly enjoyed having her for our realtor as we relocated to Fargo! "
- Alicia Frelich
" Michelle was always very accessible and great with helping guide us thru the process. Very approachable and knowledgeable. "
- Robert Haseltine
" Was very flexible to dedicate the week to us while we were in town. Helped us explore our options from new build to other town close by. With us not living in the Fargo area Michelle did some touring to get us to see what Fargo has to offer. With being out of town Michelle has helped us with the inspection, appraisal and final walk thru via FaceTime. She also provided necessary information about appliances that we had questions about. She is easy to work with and helped us thru this process who'll be 600 miles away. We enjoyed have her as our realtor. "
- Chet Chamberlin
" Very easy going. No pressure decision making. We found the house we wanted right away. "
- Ethan Kyllo
" We really didn't know what to expect when visiting Fargo to look for a home. We were first-time buyers. We had a small window where we could easily come look at homes over Christmas break because of how far we currently live from Fargo. I thought Michelle did a great job at arranging for us to get into all the houses we wanted to see. There were even houses we decided we wanted to look at last minute and she was able to make it work. Everything went very smoothly and she did a great job at answering all of our questions and addressing any concerns. "
- Annalise Duffy
" Excellent experience with Michelle Aarsvold; everything went according to plan. Keep up the great work! "
- Tim Reopelle
" Michelle is a rock star representative for Park! "
- Christine Graf
" Michelle was very helpful "
- Robert Nelson
Previous
Next